February 17, 2021
Vancouver B.C., February 17, 2021 – MAX RESOURCE CORP. ("Max" or the "Company") (TSX.V: MXR; OTC: MXROF; Frankfurt: M1D2) is pleased report its 100%-owned CESAR Copper-Silver project in North Eastern Colombia has now expanded to a district-scale size of over 2,500 sq. km, covering cumulative 220-km strike of highly prospective copper-silver mineralization.
Highlights:
The additional 500 sq. km adjoins the CESAR West northern boundary, with newly discovered copper mineralization;
The CESAR project is adjacent to approximately 20 drill holes not previously analyzed for the presence of copper and covers over 2,000 sq. km of seismic surveys (refer to Figure 1).
"This targeted land expansion was generated from newly-discovered copper showings, rock sampling, structural mapping, interpretation of seismic sections and analysis of historical drill holes, all being integrated into our ongoing structural modelling of the CESAR Basin," commented Max CEO, Brett Matich.
"Currently the Max field teams are exploring high priority targets at both CESAR West and CESAR North. We have tremendous confidence in the ability and tenacity of our exploration team to leverage our proprietary exploration knowledge to deliver the next great copper discovery," he concluded.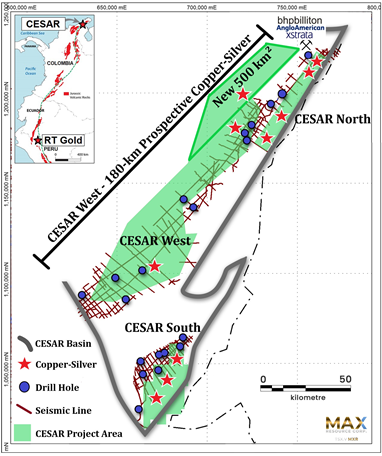 Figure 1. CESAR West, 180-km of prospective copper-silver mineralization
Max believes that the stratabound copper-silver system in the Cesar Basin is analogous to the Kupferschiefer Basin in Poland. The Kupferschiefer deposits, Europe's largest copper source, produced 3MT of copper in 2018 and 40 million ounces of silver in 2019 from an orebody 0.5 to 5.5-metres thick, grading 1.49% copper and 48.6 g/t silver. This silver yield is almost twice the production of the world's second largest silver mine.
Source: World Silver Survey 2020 and Kupferschiefer Deposits & Prospects in SW Poland, September 27, 2019.
Max cautions investors that the presence of copper-silver mineralization at Kupferschiefer is not necessarily indicative of similar mineralization at CESAR.