April 8, 2021
Vancouver B.C., April 8, 2021 – MAX RESOURCE CORP. ("Max" or the "Company") (TSX.V: MXR; OTC: MXROF; Frankfurt: M1D2) is pleased to report a second newly discovered copper zone, the URU zone, located 30-km south of the recently discovered CONEJO high-grade copper-silver zone (refer to Figure 4), at CESAR North, within the wholly-owned CESAR copper-silver project in North Eastern Colombia (refer to Figures 2 and 3).
The URU-copper zone lies along the southern portion of the 60-kilometre-long CESAR North target area. It appears to be of significant size since presently collected samples indicated the presence of copper mineralization extending over 3.7-kilometres, and open in all directions. Over 125 rock samples have been collected and sent to ALS for assays. Results are expected early next month.
The surface mineralization at the URU zone occurs as stockwork of cross cutting fractures or as disseminated mineralization hosted in igneous rock. Observed minerals include: chalcocite, native copper, cuprite and copper oxides. Epidote is also common and appears to be associated with copper mineralization (refer to Figure 1).
"The discovery of new copper mineralization at the URU zone is a significant addition to the stratabound copper-silver mineralization at CESAR North, as the Company's in-country team extends activities further into unexplored areas of Max's CESAR Project," commented Max CEO, Brett Matich.
"Over the last 18 months the Max team has identified copper-silver mineralization over 38-kilometres of combined strike length at CESAR North, demonstrating a district-scale sediment-hosted copper-silver system," he continued.
"CESAR provides Max shareholders significant exposure to copper, a strategic energy metal and a key metal for the world's transition to Electric Vehicles (EV) and Clean Energy," he concluded.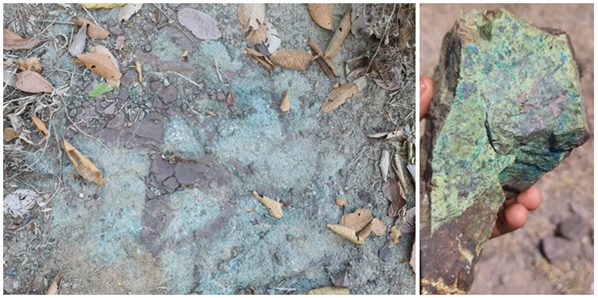 Figure 1. CESAR North, copper mineralization at the URU copper zone, assays pending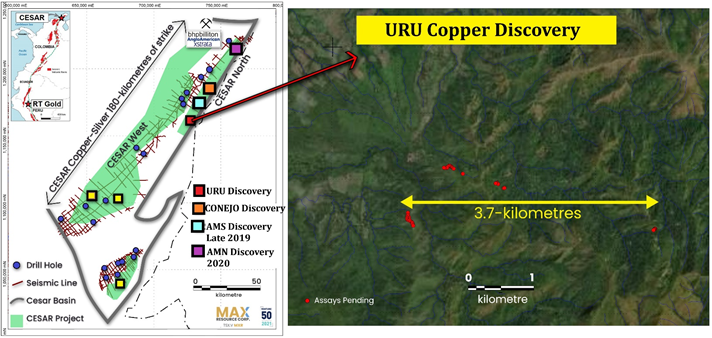 Figure 2. CESAR Copper-Silver Project
Figure 3. CESAR North, URU copper zone & sample locations
Max interprets the sediment-hosted stratabound copper-silver mineralization in the Cesar Basin to be analogous to the Kupferschiefer Basin in Poland. The Kupferschiefer deposits, Europe's largest copper source, produced 3MT of copper in 2018 and 40 million ounces of silver in 2019 from an orebody 0.5 to 5.5-metres thick, grading 1.49% copper and 48.6 g/t silver. This silver yield is almost twice the production of the world's second largest silver mine. 
Source: World Silver Survey 2020 and Kupferschiefer Deposits & Prospects in SW Poland, September 27, 2019. Max cautions investors that the presence of copper-silver mineralization at Kupferschiefer is not necessarily indicative of similar mineralization at CESAR.